The competition season is just around the corner so we have put together a handy checklist to help get you prepared so you can have your best competition year yet!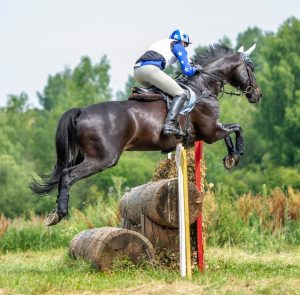 Spring is well and truly underway so the competition season is just around the corner! As the saying goes " fail to prepare, prepare to fail" and this applies to equine competition season too. We have put together a handy checklist to help get your season preparation underway to ensure you have your best competition year yet!
Horse Health Assessment
Carrying out a horse health assessment should be the first item on any checklist ahead of the competition season. It is important to get a health profile base for your horse at the start of the season so any routine treatments (such as dental care) can be scheduled in good time. Depending on the time of year, parasite control evaluation may be required and this needs to be factored in too. Make sure to check your horse's paperwork too – are all the vaccinations/passport documents up to date? By assessing these health requirements at the beginning, they can be done in good time and not affect your horse's performance at an inopportune time during the competition season!
Horse Fitness
Horse fitness is vital to focus on when preparing for the competition season. Focusing on your horse's fitness can reduce the risk of injury and can help with overall competition performance. Making a detailed plan for your horse's fitness can be beneficial here; assess your competition goals, your horse's current health and fitness standard, time management, facilities available etc to create a fitness regime. All plans should be gradual in nature and build up over time as fitness levels increases. Starting off steady lowers the risk of injury and allows more time for your horse's body to adjust and grow in strength. A customised horse fitness plan gives you the best chance of success as it can be designed to your horse's particular needs and your competition aims.
Equine Nutrition
Equine nutrition is vital all year around but even more so when the competition season rolls around. To get a baseline, assess your horse's current body condition, age and overall health. These metrics will assist with formulating a plan to fulfil his nutritional needs which can be done by an equine nutritionist or vet. Remember to adjust any plans slowly as the nutritional necessities change throughout the season in line with fitness, training and individual requirements. At NutriScience, we have a dedicated equine nutritionist available to assist with all things equine nutrition related, simply contact us to avail of this free service.
Nutritional Supplementation
Equine nutritional supplements may be required to assist your horse's performance. Supplementation should only occur on an individual basis and in consultation with an equine nutritionist. There are three areas of support that should be considered in any competition season preparation plan:
✔ Digestive support – to combat the stress of training and competing as well as for overall health
✔ Joint care – to assist with mobility and reducing stiffness is vital for any competition horse
✔ Electrolytes – vital to avoid dehydration and tying up after heavy work or in warm weather
NutriScience have a wide range of supplements available to help your horse get competition ready; from Gut Gold (digestive health) to Arthri Aid (joints and mobility) to NutriLyte (electrolyte replacement). NutriScience Equine Supplements can help your horse achieve peak performance throughout the competition season. For more advice or assistance, contact us or call  +353 (0)51 304 010