Are you looking for a supplement to help your dog's joints and mobility? Let us introduce Arthri Aid Omega! Arthri Aid Omega is a food supplement specially designed to help your dog's joints by supplying the necessary building blocks to help the natural manufacture of cartilage.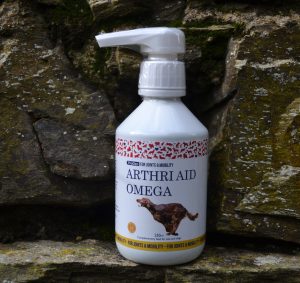 Arthri Aid Omega Ingredients
Arthri Aid Omega uniquely combines high strength Glucosamine, Chondroitin and MSM plus essential co-factors, Vitamin C and Manganese. The product also contains Omega 3 Fatty Acids for improved effectiveness. The ingredients work as follows:
Glucosamine – an amino sugar that is the starting point for the production of new cartilage and also stimulates production of new cartilage
Chondroitin – a major structural component of the connective tissue in cartilage, tendons, ligaments and even bones. A major function of chondroitin is to attract fluid into cartilage molecules, which is essential to absorb shock, nourish and lubricate the joints
Omega 3 Fatty Acids – these help decrease the breakdown of cartilage, thus helping lubricate joints and aiding mobility
MSM (Methyl Sulphonyl Methane) – a natural sulphur compound which helps soothe tired joints and improves mobility
Vitamins C and E – powerful antioxidants that help reduce joint stiffness
Arthri Aid Omega Feeding Recommendations
At NutriScience, we are continually developing new presentations of our nutraceuticals to make the products more palatable, easier to dispense and  more acceptable to pet and owner alike. Arthri Aid Omega liquid is caramel flavoured, making it easy to give and is absorbed quickly. Arthri Aid Omega is available in three pack sizes:
250ml bottle
500ml bottle
1000ml bottle
Arthri Aid Omega 250ml and 500ml come with a pump which dispenses 2.5ml of liquid with each compression. The 1000ml bottle has a dosing cap for product administration.
| | |
| --- | --- |
| Dog Weight | Recommended Amount |
| <5kg | 2.5ml Daily (1 pump) |
| 5-10kg | 5ml Daily (2 pumps) |
| 10-20kg | 10ml Daily (4 pumps) |
| 20-30kg | 15ml Daily (6 pumps) |
| Over 30kg | 20ml Daily (8 pumps) |
Maintenance Period: After 14-21 days, the daily intake can be reduced to meet your dog's specific needs (usually can be reduced by half).
Product Storage Instructions
Arthri Aid Omega is for animal use only. Store in cool, dry place between 15-25 degrees Celsius. Keep out of the reach of children. Keep out of direct sunlight. Shake well before use. For more information or advice on supplementation, please click here or contact us.