NutriScience is proud to announce that Italian event rider Alberto Giugni has come on board as a Brand Ambassador for the company.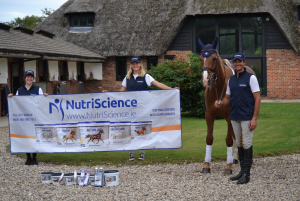 Italian event rider Alberto Giugni has been unveiled as a Brand Ambassador for NutriScience. Alberto has been using the NutriScience range for a number of years with great success. A particular favourite is the AnxiKalm Triple Strength Gel, which has become an integral part of the event routine for any horse that gets tense in the dressage or show jumping. Alberto is a mainstay of the Italian event team who is based in the UK. He represented Italy at the European Championships in 2005 at Blenheim and at the World Equestrian Games in 2006 at Aachen, Germany. Alberto regularly competes at international level both in the UK and Ireland with a string of high-profile results including having his horse Mischievous achieve Olympic qualification with a second one nearly qualified too. Alberto also runs the very successful Downs Equestrian Centre in Wiltshire, a purpose build facility for competition horse preparation. On the appointment Padge Whelan, NutriScience European Sales Manager, commented;
"We are thrilled to have Alberto join our team of NutriScience Brand Ambassadors. Alberto is a very well-known member of the Italian event team and the wider European eventing community. We look forward to supporting him with tailored nutritional advise in order to help his horses achieve peak performance throughout the eventing season and beyond."
Alberto joins a growing list of successful NutriScience Brand Ambassadors across multiple disciplines, which includes Irish international event rider Ciaran Glynn and Irish international dressage rider Kate Dwyer.