NutriScience Equine Supplements are title sponsors at Ballindenisk Autumn International.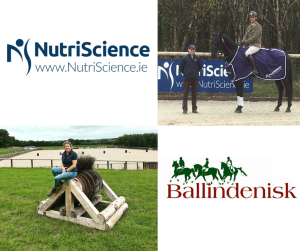 NutriScience Equine Supplements are proud to once again be Title Sponsor at Ballindenisk this year. The Cork venue will host their Autumn International competition, which is the final Irish FEI event of 2022 and incorporates the FEI Eventing Nations Cup. The event runs from Thursday 22nd to Sunday 25th September and NutriScience are generously sponsoring both the 4* Long and 4* Short classes.
Ballindenisk is proud to have course designer, and British Eventing CEO, Helen West (GBR) designing the cross country course for both NutriScience 4* classes. There are some new challenges for both horse and rider to enjoy out in picturesque Cork countryside so it will be a great weekend of eventing.
NutriScience are proud to support Irish eventing through event sponsorship and global brand ambassadors, including Olympic Silver Medallist Kevin McNab and recent Millstreet International winner Sian Coleman. NutriScience offer an extensive range of high-quality, effective equine supplements and manufacture all products in their BETA NOPS and GMP+ accredited facility in Waterford. For more information on Ballindenisk please follow this link and for more on NutriScience, click here.