NutriScience Equine Supplements were very proud to be Title Sponsor and Official Supplement Partner at the Dressage Ireland South East Region Summer Festival 2020.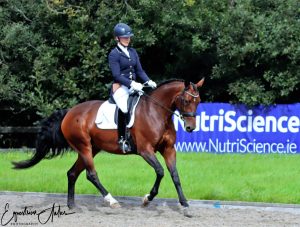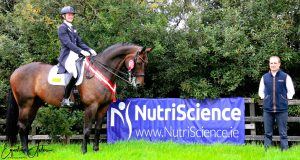 The South East Region of Dressage Ireland held it's Summer Festival recently, which ran over 2 days and took place at Spruce Lodge in Co. Wicklow. NutriScience Equine Supplements were title sponsors of the show, a first for the global nutraceutical company which has it's manufacturing base in Waterford. NutriScience generously offered a prize fund worth €1,500 and the festival held the first Grand Prix Special class ever hosted on Irish soil.
The Grand Prix Special class went to Rachel Dowley and Cadens with a score of 68.35%. It was a very special performance and winner did a personal best to win the first ever Grand Prix Special class in Ireland.
The Big Tour winner was Carolyn Mellor and VSH Gourerneur M while the Small Tour honours went to Sive Kearney with her horse Rob Roy.
There were lots of very happy winners throughout the whole weekend and well done to all competitors for a great display of competitive dressage action. Well done to all the organisers of the show; it was a great weekend of competition especially in these unprecedented times. NutriScience Equine were very proud to support such a successful event and the wider dressage community in Ireland.
Photo credit: Equestrian Antics