Clinadry Multi Eye Lubricant for Dogs
Clinadry Multi is a non-injectable lubricant eye drops for dry eye in dogs. Clinadry Multi is sterile, free from preservatives and comes in a box of 20 x 0.5ml resealable units in sachets.
---
€20.51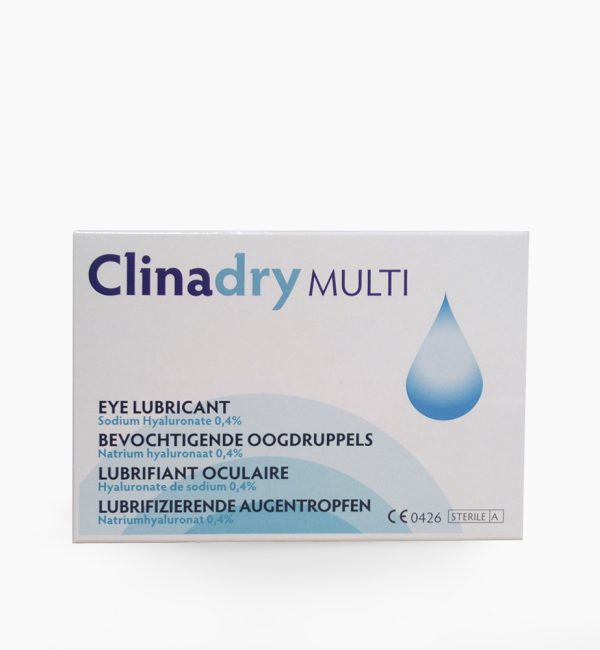 Additional Product Info
Clinadry Multi is a dry eye lubricant made of hyaluronic acid suitable for dogs. Clinadry Multi is indicated in cases of eye dryness sensation and other minor complaints of no pathological significance, as well as burning sensation and ocular fatigue induced by dust, smoke, dry heat, air conditioning etc. The product plays an essential role in providing on the eye surface a stable and soft coating, which holds out against blinking. There are several benefits of using Clinadry Multi:
Product spreads evenly over the corneal surface
Is a preservative-free tear replacement
Product reduces detrimental effects on the corneal epithelium
Lower frequency of application with Clinadry Multi
Product binds more closely to the corneal surface
Clinadry Multi guarantees long lasting relief resulting in maximum comfort for your dog.
Clinadry Multi contains sodium hyaluronate, a natural polymer which is also present in eye tissues. Its water retention capacity plays an essential role in maintaining a film of tears. Clinadry Multi's balanced formulation allows its pH and osmolarity to be adjusted to values similar to those of tears, and gives the product an irrigating, refreshing and soothing effect on sensitive eyes.
The preservative-free formulation reinforces the eye's excellent long-term tolerance of Clinadry Multi, allowing regular, daily use. When instilled, Clinadry Multi will give relief to your dog's sore eyes.
Sodium Hyaluronate 0.4%
Dibasic Sodium Phosphate
Monobasic Sodium Phosphate
Sodium Chloride
Water for injections
Place 1 or 2 drops into the conjunctival sac of the eye. Wash hands thoroughly before using the solution. Tear off one container from the strip, and then twist its top to open. Avoid touching the eyelid or eye surface with the container tip. The vial can be reclosed and once opened each vial can be used for up to 12 hours. Clinadry Multi is used by placing 1 or 2 drops of Clinadry Multi into the lower lid and then blinking a few times to ensure that the whole eye is covered with the liquid.
Please note:
• Before use, make sure that the container is not damaged.
• Do not touch the eyelid or eye surface with the container tip.
• Once opened each vial can be used for up to 12 hours.
• As this medical device is not containing any preservative.
• Do not use the eye drops after the expiry date indicated on the package.
• Store below 25°C.
• After opening of the sachet, keep the doses safe from the light.
• Keep out of the reach of children
• In case of concomitant treatment, do not apply Clinadry Multi at the same time as other eye drops.
Box of 20 x 0.5ml resealable units in sachets.