Lysine Aid Feline Herpes Supplement
Lysine Aid Feline Herpes Supplement is an L-Lysine supplement to aid the management of Feline Herpes (FHV-1) in kittens and cats. Lysine administration can help inhibit replication of the Feline Herpes Virus (FHV-1) and can be used to aid the management of FHV-1 infection.
---
€20.36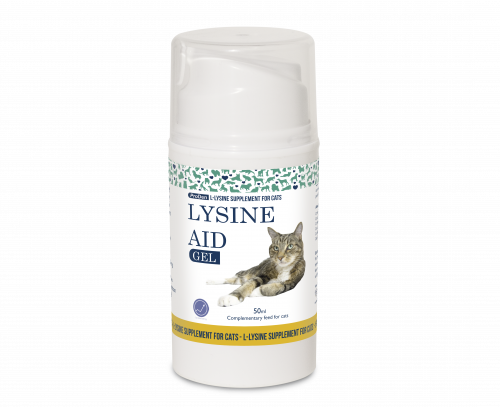 Additional Product Info
Feline rhinotracheitis virus (feline herpesvirus type 1 or FHV-1) causes acute respiratory illness known as rhinotracheitis (or feline herpesvirus infection). The virus affects domestic and wild cats worldwideFHV-1 is the most common viral infection affecting cats with an estimated incidence of FHV-1 of 50% of household cats.
L-Lysine, a key component of Lysine Aid, is an amino acid which is naturally present in proteinsan play a important role in the management of herpesvirus infection. L- Lysine is an amino acid which suppresses FHV-1 replication by competing with Arginine for incorporation into the viral genome. The product should be given during periods of stress. Give as soon as possible for best results.
Lysine Aid is a very palatable and easy to give gel specifically for cats.
Cats of all ages and breeds are susceptible to the feline rhinotracheitis virus, although it is more common in the following situations:
Kittens, especially those born to infected mothers
Multi-cat households, catteries and pet adoption shelters
Overcrowding
Physical or psychological stressors
Poor nutrition, sanitation ventilation
Pregnant cats that are lactating
Sick cats (especially illness associated with a weakened immune system or other respiratory infection)
Unvaccinated cats
Sorbitol
Glycerine,
L-Lysine
Salmon flavor
Microcrystalline cellulose
Carboxymethylcellulose
Xanthan gum
Benzoic acid
Polyoxyethylene 20 sorbitan monooleate
Apply to cat's paw or add to food.
For cats give 2ml twice daily.
For kittens give 1ml twice daily for one week before periods of stress and for at least 2 weeks afterwards
50ml unit with oral measurements for ease of use.