Senior Aid Ageing Supplement for Dogs
Senior Aid is a complementary feed that contains the nutrients necessary to ensure optimum health and brain aging in older dogs. Senior Aid supplies nutrients which can have a significant benefit to older pets and are now available in one supplement rather than several separate products.
---
€24.21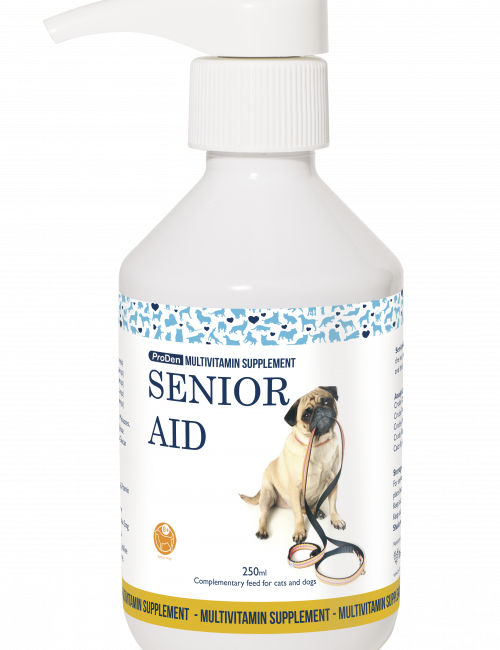 Additional Product Info
Senior Aid Ageing Supplement contains the essential daily nutrients plus supplemental nutrients that older dogs either have an increased requirement for or do not produce sufficiently for themselves.
As dogs get older the quality of their dietary intake may vary for several reasons, among them illness and reduced appetite.
Senior Aid has been scientifically formulated to ensure its key ingredients play their own individual roles in helping to slow the ageing process.
The first sign of an aging dog is a general decrease in activity, including a tendency to sleep longer and more soundly, a waning of enthusiasm for long walks or games of catch, and a loss of interest in its surroundings. Skin and coat change too, as the skin loses pliability and the capacity of the oil-producing sebaceous glands diminishes. As aging advances, the heart, liver, and kidneys lose their efficiency and the immune system is less able to fight off attacks by bacteria and viruses. Old age also has a significant effect on brain function, which can be boosted with adequate nutritional intake. It is recommended to give a supplement before signs of old age appear.
The supplemental nutrients in Senior Aid address specific issues of concern in older pets:
Senior Aid contains phosphalidylserine which protects neurons from age related degeneration. Senior Aid contains potent antioxidant Vitamin E. The brain is particularly susceptible to free radical damage due to its high rate of oxidative metabolism, high lipid content and limited regenerative ability. Senior Aid contains high levels of B Vitamins which are co-factors in the synthesis of neurotransmitters and helps in cases of cognitive dysfunction.
Senior Aid contains Beta Glucan to enhance the immune system. Beta Glucan acts on peyers patches to increase production of killer t-cells.
Senior Aid contains maintenance levels of glucosamine, chondroitin and Omega 3 fatty acids to ensure joint mobility and enhance production of new cartilage.
Senior Aid contains L-Carnitine which is required for efficient functioning of cardiac and shelter muscle, which is shown to be deficient in older dogs.
Senior Aid contains essential fatty acids (Omega 3 & 6) plus L-Arginine which helps inhibit lipolysis and muscle protein degenerative associated with cachescia. It is a suitable adjunct to chemotherapy treatment.
Glucosamine HCL 300mg
L-Carnitine L-Tartarate 100mg
Omega 3 Fatty Acids 125mg
Thiamine HCL 0.40mg
Chondroitin Sulphate 120mg
Riboflavin 1.44mg
Phosphatidylserine 100mg
Niacin 5.6mg
Beta Glucan 10mg
Vitamin B12 (Cyanocobalmin) 0.035mcg
Cysteine 200mg
Vitamin B6 0.4mg
L-Arginine 150mg
Vitamin E (D alpha tocepherol) 28.8mg
L-Methonine 125mg
Pet Weight               Daily Amount                         (1 pump = 2.5ml)
0-5kg                              2.5ml
5-10kg                            5ml
10-20kg                         10ml
>20kg                             15ml
Simply pump the daily dosage onto food.
250ml bottle of caramel flavoured liquid with unit dose measure included