Kalm Aid Calming Tablets
Kalm Aid Tablets are an L-Tryptophan based supplement that helps to calm pets during periods of stress and anxiety. It can also be used to manage long term behavioral issues.
---
€16.61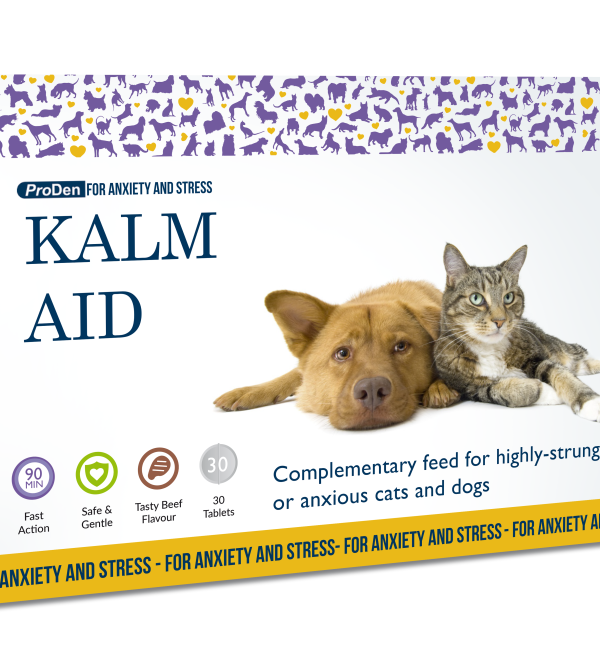 Additional Product Info
Kalm Aid Calming Tablets promotes relaxation and reduces nervous irritability. It is useful for situations such as lightning, thunder, firecrackers, anxiety due to separation from owner or new environment, fear of travel or unwanted unruly behaviour.
Kalm Aid Calming Tablets contain L- tryptophan and green tea extract. Green tea, when combined with L-tryptophan, supplies the essential amino acids which help stimulate the production of serotonin. Serotonin plays an important role in maintaining calm and relaxation in animals. The product also contains Thiamine (Vitamin B1). Deficiency in this crucial vitamin has been associated with nervous disorders.
Kalm Aid Calming Tablets contais L-Tryptophan and L-theanine, which cross the blood brain barrier and affect the central nervous system. L-theanine works by stimulating alpha waves. Independent clinical research is available on request. Thiamine deficiency has been associated with nervous disorders, while Niacin helps L-Tryptophan work to its full potential.
L-Tryptophan                          286mg
Vitamin B6                              60mcg
Vitamin B1 (Thiamine)          0.79mg
Vitamin B3 (Niacin)                3mg
Green Tea Extract                  15mg
Excipients: Yeast extract (Beef Flavour), Silicon Dioxide, Magnesium Stearate, Calcium Phosphate, Stearic acid, Hydroxypropylcellulose, Polyethylene Glycol
For an individual fear or anxious event give the following quantity, preferably one hour before required effect:
Dosing Guidelines:
| | |
| --- | --- |
| < 5 kg |    - 1 tablet |
| 5 – 10 kg |    - 1.5 tablets |
| 10 – 20 kg |    - 2 tablets |
| 20 – 30 kg |    - 2.5 tablets |
| Over 30 kg |    - 3 tablets |
For long term management of behavioural problems half the above quantity can be given daily.
Box of 30 Beef Flavoured Tablets