Halloween is such a fun time of year to enjoy with your pet. However it can be a challenge too so here are some helpful hints that you can use to assist with navigating the spooky season safely.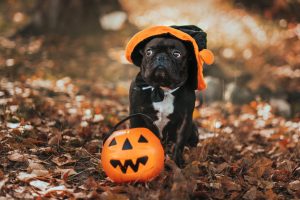 Pre-Halloween Night Prep
Get your dog used to costumes – you dog may regard family members as strangers once they don Halloween costumes so allow your dog to smell the them so he can then recognise who they are.
Keep chocolates and sweets away – it is well known that chocolate and sweets are harmful to dogs so make sure they are well out of reach/hidden away for your dog's safety.
Be prepared – have a plan of action prepared and consider your dog's stress levels at this time. Kalm Aid can help promote relaxation in 90 minutes and is available in tablet, liquid and gel forms. Kalm Aid is an L-Tryptophan based supplement used to help calm pets during periods of anxiety, stress or fearful situations such as Halloween.
On Halloween Night
Make sure your pet has been exercised, that way they are bound to be naturally tired
Bring your dog indoors – bring your dog inside where he cannot be harmed or overwhelmed.
Keep your dog secured – perhaps put him in a separate room away from the front door, that way it will limit his excitement and reduce his chance of running outdoors.
Reassure your dog – if your dog gets unsettled, act as normal as possible to reassure him. Consider using a calming supplement to help cope with the stressful situation. Kalm Aid is for nervous or anxious dogs and for stress-related situations like fireworks. Kalm Aid contains ingredients L- tryptophan and green tea extract which help stimulate the production of serotonin. Serotonin plays an important role in maintaining calm and relaxation in animals.
Halloween is a fun festival and, by following the above hints, both you and your furry friend can safely enjoy this season!