NutriScience were very proud to be Title Sponsor at the hugely successful 2021 DI Classic in Spruce Lodge.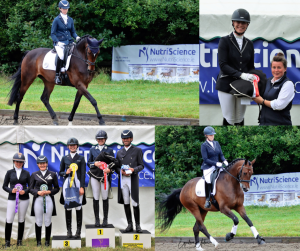 The NutriScience DI Classic was held over the August Bank Holiday in Spruce Lodge in Co. Wicklow. 2022 is the third year of title sponsorship for NutriScience, which the brand is very proud of. The show was a hugely successful weekend of top class dressage with exceptional entries across a wide range of classes.
To highlight some winners, Sarah Mellor and Let's Dance won the Grand Prix Championship while the Big Tour was taken by Sean Burgess riding Mount St John Valencia. Sean also won took the honours in the Small Tour with his horse Imperioso WW. NutriScience Brand Ambassador Kate Dwyer had a most successful show taking the Preliminary Championship and two Medium Championships with Ri Ra An Taniste and Harmony respectively.
The weekend was a great display of competitive dressage action and well done to all the organisers of the show; they worked tirelessly to ensure everything ran smoothly. The NutriScience Classic once again demonstrated how strong the sport of dressage is in Ireland is and NutriScience were very proud to support such a successful event!
Full results can be found here.
Photo credit: Equestrian Antics