Irish event rider Sian Coleman is the latest rider to join NutriScience as a Brand Ambassador. She is a well established event rider with a very successful string of high profile horses. NutriScience are very excited to have such a successful event rider join the ever expanding portfolio of Brand Ambassadors.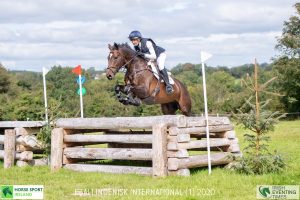 Irish eventer Siân Coleman is the latest rider to join NutriScience as a Brand Ambassador. Siân has been using NutriScience AnxiKalm Compete with great success. She has found that it is has really helped with very enthusiastic horses making them more level and ridable. Siân is a big fan of Anxikalm Compete as it so safe to use on competition horses with no prohibited substances present so there is no stress on that front.
Siân is a very well-established event rider based in Mallow, Co Cork. She has had a string of high-profile successes both in Ireland and the UK, with one highlight being winning the CCI*** at Camphire last year. She has a very versatile team of horses including two horses at 4* level as well as multiple Young Horse World Championship horses. Siân is a member of the Irish Olympic Horizon squad and is aiming for 5* competitions next year.
On the appointment, Padge Whelan NutriScience European Sales Manager, commented;
"We are very excited to have Siân join as a Brand Ambassador for NutriScience. She is a very accomplished and well-known event rider with such a talented stable of horses. The future looks very bright and we look forward to supporting Siân and helping her horses achieve peak performance throughout the eventing season and beyond."
Siân joins an exemplary multi discipline roster of NutriScience Brand Ambassadors such as Irish international dressage rider Kate Dwyer and Italian event rider Alberto Giugni to name a few.
Photo credit: Irish Eventing Times