NutriScience is proud to announce its sponsorship of Team GB dressage rider Alicia Griffiths. Read about her exiting career and how GastroCare gastrointestinal health supplement helped her to manage ulcers in her horse, Darcy
A lifelong equestrian Alicia rode up to PSG and trained to Inter 1 until suddenly and unexpectedly, she lost her eyesight at the age of 19. Her love and passion for horses gave her the determination to continue on as a para rider.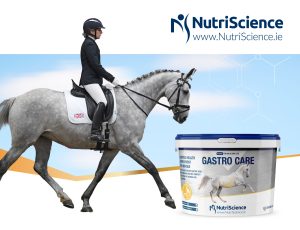 Fast forward a few years and Alicia has competed for the UK in para dressage with Just Arisca, aka Risky and Agreus Ophelia aka Darcy at the Para Winter and Summer national championships. Her performance at silver level and Gold level led to her selection for Team GB.
In summer 2019, she was again selected to compete for Great Britain, twice at Bishop Burton and Keysoe with her Young horse Darcy, in this her first competition season in both paras and at international level.
As a result of winning internationally this year, Alicia and her horses have now been selected and invited on to the British Equestrian Federation Podium Potential Pathway. This marks an exciting step in their international career in dressage.
Alicia Discovers GastroCare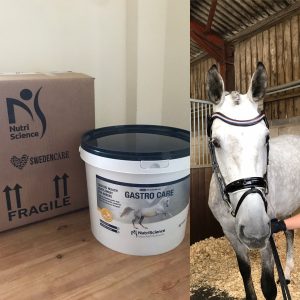 In April 2019, champion dressage horse Darcy was diagnosed with Grade 4 ulcers.
On veterinary advice, GastroCare was added to her feeding regime. As a fussy eater, GastroCare was ideal due to its highly palatable powder formulation. Simply mixed with a bowl of chaff, Darcy was happy to scoff the lot. Following this supplement regime, Darcy scooped clear! GastoCare remains an essential feed ingredient for all of Alicia's horses
"I truly believe with all the competitions we do and travelling and staying away GastroCare has kept Darcy happy and healthy."
For 2020 Alicia is looking forward to summer qualification, home and further internationals, where she's aiming for 2 and 3 star events!
GastroCare for improved gastric health in horses
GastroCare from NutriScience is a scientifically-formulated dietary supplement with a unique multi-faceted approach to gastrointestinal health. Antacids mimic the effects of saliva in protecting the  stomach lining from gastric acid. Soluble fibres absorb and help to buffer excess acid while L-Glutamic acid contributes to the health of the digestive system.
---
GastroCare is available to buy online at NutriScience.ie and is also available through retail and veterinary outlets throughout Ireland, the UK and Europe.