NutriScience Equine Supplements are proud to continue as Title Sponsor at Ballindenisk Spring International 2022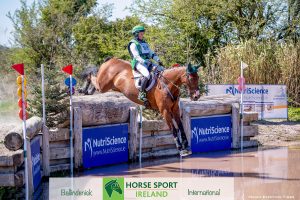 NutriScience continue to be Title Sponsor of Ballindenisk Spring International in 2022. The Cork venue will host the first Irish International competition of the year from Thursday 28th April to Sunday 1st May. Once again, NutriScience are generously supporting the 4* Long and 4* Short classes and both are sure to be competitive, with the FEI World Equestrian Games being held in Italy later this year. On the title sponsorship Padge Whelan, NutriScience European Sales Manager, commented:
"NutriScience are thrilled to be Title Sponsor again at the Ballindenisk Spring International. Ballindenisk in April is always exciting and we are delighted to be collaborating with Peter Fell and his team, who always do a great job. This sponsorship demonstrates our commitment to the Irish eventing sector and we are looking forward to a competitive weekend of top level eventing."
NutriScience are proud to support the Irish eventing sector through event sponsorship and global brand ambassadors, including Tokyo 2021 Silver Medallist Kevin McNab and Irish International Event Rider Sian Coleman. NutriScience offer an extensive range of high-quality, effective equine supplements and manufacture all products in their BETA NOPS and GMP+ accredited facility in Waterford. For more information on the NutriScience range, click here. To keep up to date with all information Ballindenisk related, please check out their website.
Photo credit: Irish Eventing Times