NutriScience is proud to unveil Olympian Kevin McNab as a new Brand Ambassador.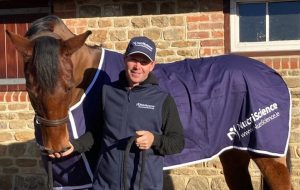 NutriScience Equine Supplements are proud to announce Tokyo 2021 Silver Medallist Kevin McNab as a new brand ambassador. Kevin is a highly decorated Australian event rider based in Great Britain, with a string of successes to his name including the aforementioned Olympic silver medal, a 2021 World Young Horse Championship and as well as numerous international wins across the UK and further afield. Kevin has a yard full of talented horses ranging from 5* contenders to up-and-coming talent in the younger divisions. NutriScience are very proud to welcome Kevin to their brand ambassador portfolio with Padge Whelan, European Sales Manager, commenting;
"We are thrilled to have Kevin on board, he is hugely successful event rider with a fantastic yard of horses. Since starting on NutriScience supplements, Kevin's horses have been thriving ahead of the coming eventing season. We are very proud to be supporting such a talent and look forward to enjoying his future success with his string of exciting horses."
NutriScience is an award-winning brand of equine supplements based in Waterford, Ireland. For over two decades, NutriScience has been manufacturing a complete range of high-quality products to fulfil equine supplement needs. The range is formulated based on scientific research with a highly experienced technical team ensuring excellent product quality and effectiveness. Take a look at the complete NutriScience range here.