NutriScience Equine has been a great success story with continued growth so learn about the journey and what is in store for the future!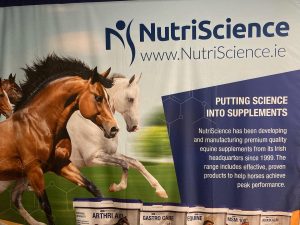 Origins of NutriScience Equine
NutriScience Equine was founded in Waterford, Ireland just before the Millennium in 1999. The company purpose was (and still is) to bring high-quality, scientifically based supplements to the equine market in both Ireland and further afield. The three founders consisted of a nutrition and marketing graduate, a pharmacist and a veterinarian with expert knowledge in the equine sector. This combined knowledge enabled the team to create the NutriScience range of effective, proven products to help horses achieve peak performance and improve overall health. The brand accomplished impressive growth since its founding and, as a result, won a National Business Innovation Award as well as becoming an Irish Exporter of the Year award winner.
The Next Chapter
In 2016 the NutriScience brand was acquired by Swedencare AB and became part of the internationally renowned, global Swedencare Group. Since the acquisition, there has been investment in research and development with a new state of the art, multimillion-euro GMP B8 accredited production facility in Waterford. The production facility is very proud to uphold manufacturing excellence through various quality accreditations, such as the GMP+ Feed Safety Assurance and BETA NOPS. Find out more about the commitment to product quality here. NutriScience Equine implements a variety of sustainable manufacturing practices aimed at reducing environmental impact, such as using solar panels for energy generation, reducing packaging materials, applying efficient delivery systems as well as recycling paper, plastic, glass and metal at every opportunity. The company is focused on increasing its exemplary record for sustainability, product quality and manufacturing standards across the complete manufacturing process going forward.
Onwards and Upwards
For over two decades now, the NutriScience Equine brand has achieved global growth with a presence in over 15 countries and this expansion shows no sign of slowing down. There is an extensive network of distributors from Europe to the United Arab Emirates and beyond. The NutriScience Equine range is used and trusted by riders all over the world from keen amateurs to Olympic Medallists – learn about our truly global brand ambassadors here. With a focused, select and quality range, NutriScience Equine delivers the very best in nutritional support whether it is a high performance or a beloved family pet. For even more information, please contact us here or call  +35351 304010.